SIMAHPP is a Windows ased tool for hydropower projects analysis and energy simulations using hydraulic, financial, and environmental parameters. It provides detailed analysis and results on energy production, economic analysis, environmental impacts, equipment and material selection. Since its release in 2009, SIMAHPP has been used in more than 40 countries in Europe, North and Latin America, Africa, Asia & Australia. Below is the list of countries where SIMAHPP users are located. User profiles cover consultants, hydropower scheme planners, developers, investors, clean tech advisers, researchers and educators.

| | | | |
| --- | --- | --- | --- |
| | | | |
| Albania | Greek | Laos | South Africa |
| Algeria | Guatemala | Malaysia | South Korea |
| Australia | Haiti | Montenegro | Spain |
| Canada | Honduras | Nigeria | Swaziland |
| Congo DRC | India | Norway | Swaziland |
| Czech Republic | Indonesia | Pakistan | Thailand |
| Denmark | Iran | Philippines | Turkey |
| El Salvador | Italy | Rwanda | United Kingdom |
| France | Jamaica | Rwanda | U.S.A |
| Germany | Japan | Slovenia | Yugoslavia |
SIMAHPP5 is for multi-site simulation to determine design flows and to choose appropriate hydro turbine, optimize time of operation so as to maximize annual energy production, determine the energy revenue, estimate investment and maintenance costs, determine amortization rates, Net Present Value (NPV), Internal Rate of Return (IRR), payback periods. SIMAHPP5 takes into consideration the environmental impact of the project such as in terms of value generation by reducing carbon emissions or other environmental risks. SIMAHPP 5 is provided with features for sensitivity analysis, turbine efficiency editor, and report generation.
Compared to its predecessors, i.e. SIMAHPP 4.xx, SIMAHPP 5 has the following key features:
Single-purpose (only hydro scheme) or multi-purpose scheme (hydro + options for water supply, irrigation, and other water needs)

Multi-year data record and analysis (40+ years data per scheme)

Options for additional financial benefits (such as from irrigation, flood protection, water supply, navigation, fisheries, carbon sales, recreation)

Options for environmental impact evaluation (such as population displacement, wildlife, aquatic loses, forest loses and other land changes and integration of environmental action plans, etc

Data options for weekly and hourly mean, in addition to daily, monthly and annual mean

Options to use head losses using Darcy-Weisbach, Manning, Hazen-Williams

Efficient algorithm for appropriate turbine selection and computation of corresponding specific speeds, penstock diameter, static pressure

A wide range of units for input and output parameters (SI, US/UK systems)

Long list of penstock materials with the corresponding roughness properties

Sophisticated data visualization for both input and output data (multi-year, multi-site, multi-parameter).

R

everse vertex analysis, multi-scaling, multi-line, zoom, export, and many…



Sensitivity analysis & sensitivity index (SI) visualization

Summarize and generate simulation report

Project characteristics, classified as Energy Production, Economic Analysis, Environmental Impacts, Equipment & Materials

Site location map

Net Framework

A summary of project simulation output per project site is as follows:

Details of project simulation results per site are as follows:
Energy Production: analysis on the energy production capacity of the hydropower scheme provides with results on
Net head using three head loss methods

Design flow from FDC (Flow-Duration Curve),

Design time of operation for maximizing energy

Optimum power capacity

Maximum energy production

Economic Analysis: analysis on the financial feasibility the hydropower scheme provides with results on
Energy sales revenue,

Carbon market revenue,

Additional revenues in case multi-purpose from domestic water supply, irrigation water, flood control, navigation, recreation, fisheries,

Investment cost,

Investment cost/kW,

Investment cost/kWh,

O&M cost, net present value (NPV),

Internal rate of return (IRR),

Payback period,

Amortization plan

Environmental Impact and Management Plan: analysis on environmental impact and the management plan of the hydropower scheme provides with results on
Emission reduction,

Population displacement,

Wildlife migration,

Aquatic habitat losses,

Forest clearance,

Land use change,

Resettlement program,

Watershed management,

Tree planting,

Public awareness program

Equipment and Materials: analysis on the system characteristics results in the type of equipment and material
Turbine type,

Specific speed,

Penstock size

Penstock material

SIMAHPP5 is available in three packages: Standard, Professional, and Enterprise (see also Table below for the summary).
Multi-site, multi-purpose hydro system
Up to 5 sites or project scenarios can be simulated in a single run. Here, users can select the number of project sites, flow data type, length of data record in years, type of scheme if single or multi-purpose, and estimated length of the penstock. Further more, users can select head loss methods, penstock materials, and measurement units for the simulation.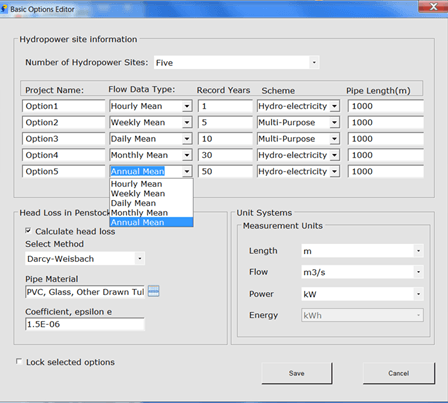 Competing water users (in case of multipurpose hydro system) or single purpose (hydropower only) hydro scheme
SIMAHPP is provided with flow and head data editors for up to 5 project sites or scenario. If the specific site is used for multi-purpose use, the net flow for the hydropower project will be taken into consideration for the energy simulation. In this case, additional benetits of the scheme will be valuated based on the volume of water for individual uses.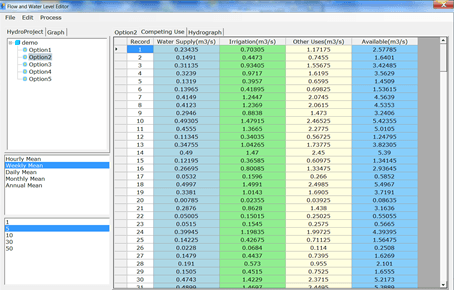 One or more projects flow hydrograph
SIMAHPP generates hydrographs for the flow and the head. It has sophisticated and rich visualization and export features
Determine design flow and the maximum energy
Using the Reverse Axis functionality, numerous analyses can be done. For instance, by comparing design flow against energy, one can easily see the flow that provides maximum energy. One or more simulation variants can also be compared by clicking on the desired check box on the left side of the plotter.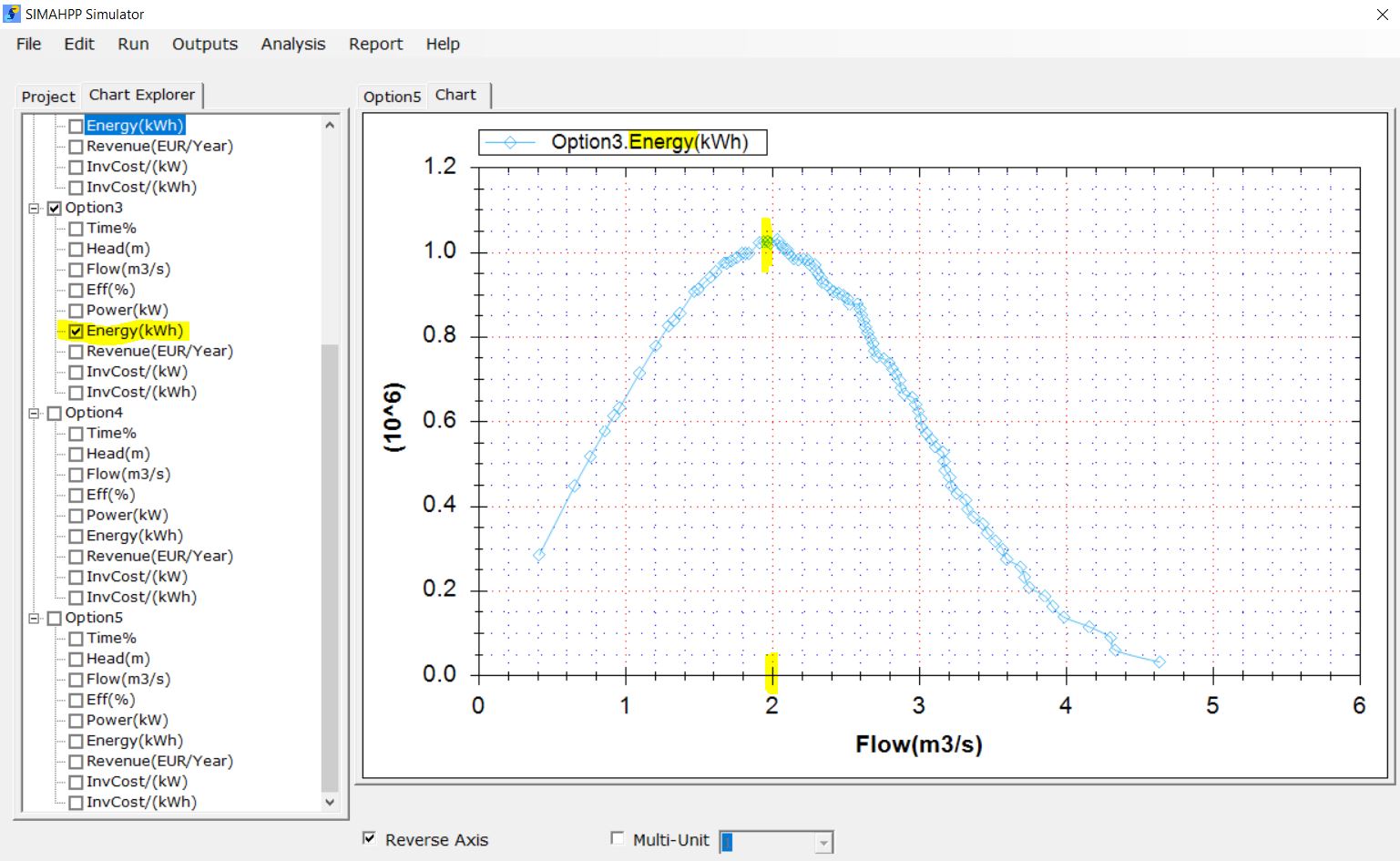 SIMAHPP 5
Brand: HydroXpert
Product Code: SIMAHPP 5 Editions
Availability: In Stock